Coastal GasLink Pipeline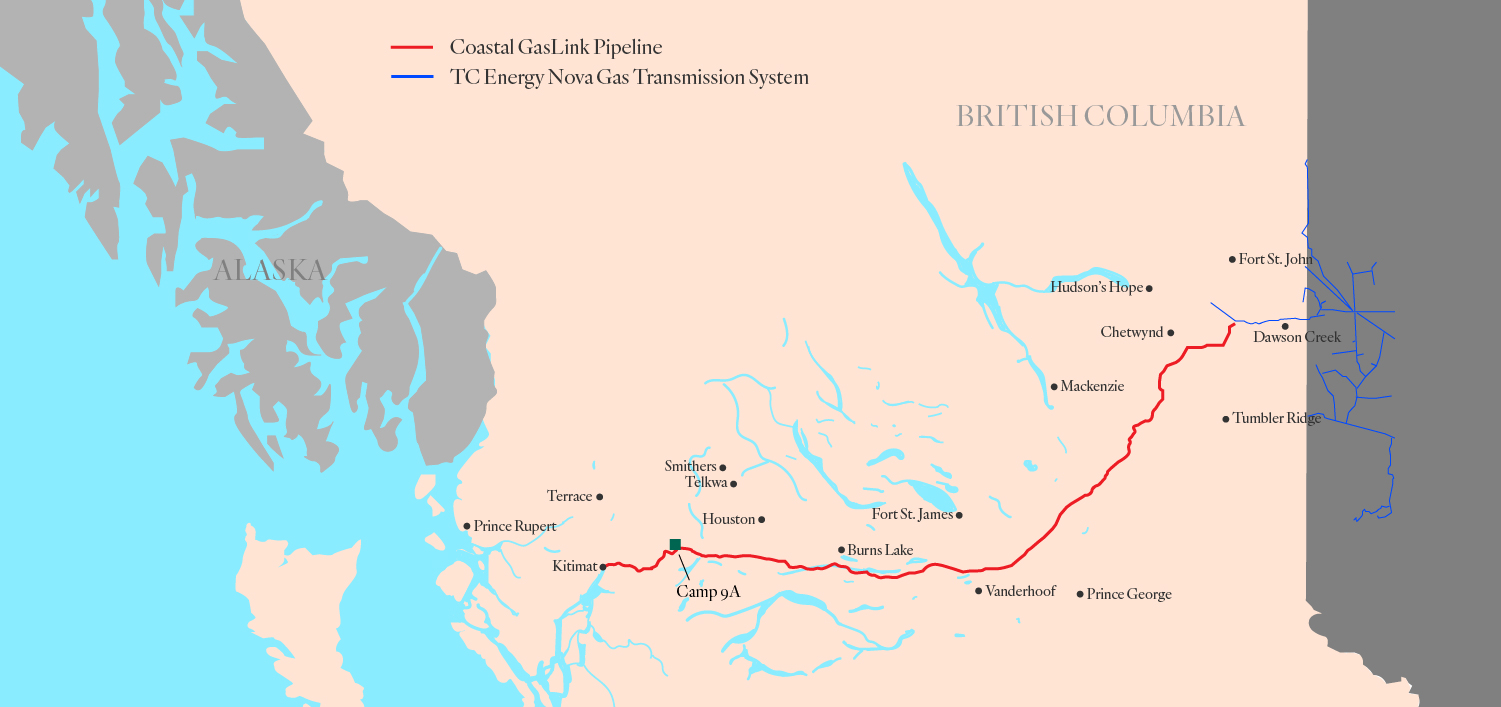 TC Energy's fossil dreams are violating indigenous people's human rights and destroying their land. The Canadian pipeline giant is building the 670 km (420 mi) Coastal GasLink Pipeline through the traditional lands of the Wet'suwet'en people in Western Canada. TC Energy never got permission from the Wet'suwet'en to take their land and put a pipeline on it.
TC Energy, formerly known as TransCanada Corporation, is one of the world's biggest pipeline expanders. Before the Coastal GasLink Pipeline, the energy company also wanted to build the controversial Keystone XL pipeline across Canada and the US. However, on his first day in office, President Biden cancelled TC Energy's Keystone XL pipeline permit. This was one of his first steps to address climate change.
In Canada, however, TC Energy has already built parts of the Coastal GasLink Pipeline. Even though it is not yet completed, it is already polluting land and water. To make space for the fossil corridor, TC Energy is cutting down ancient forests. It is wiping out the home of grizzly bears, black bears, deer, and the endangered Southern mountain caribou. Without a tree cover, the bare soil is washing into the rivers, polluting the water and suffocating fish larvae.
For centuries, the Wet'suwet'en have lived in harmony with British Columbia's nature. Their whole life is centered around healthy forests, rivers, and animals. The Wet'suwet'en people hunt, fish, gather herbs, and drink the fresh mountain water. Now, TC Energy is invading their lands, lives, and culture. The company's roaring machines have driven away the local moose herd. TC Energy's bulldozers have razed burial sites of Wet'suwet'en ancestors to the ground.
TC Energy could not care less about indigenous rights. While the company claims to have the support of the indigenous Wet'suwet'en community along the pipeline route, their hereditary chiefs fiercely reject this. The hereditary chiefs have been ruling over the traditional Wet'suwet'en lands since time immemorial. They never ceded their land to the Canadian government and never gave their consent to have the Coastal GasLink pipeline built on it. The hereditary chiefs are defending what has always belonged to them. But TC Energy got police support to arrest indigenous leaders and their supporters for the 'crime' of being on their own land.
TC Energy and its Coastal GasLink Pipeline are creating an atmosphere of violence. Hundreds of male workers are moving into man camps to build the pipeline. Their presence makes indigenous women in particular feel unsafe in their homes and on their land. With police support, the company is interrupting people's traditional ceremonies. The Wet'suwet'en cannot even find relief in their local healing center because of the pipeline construction noise. The healing center is a sacred space where they reconnect with nature and the traditions that TC Energy has taken from them. TC Energy is attacking the Wet'suwet'en culture. Before the United Nations Permanent Forum on Indigenous Issues, the Wet'suwet'en have made clear that this is genocide.[1]
Many people are standing up against TC Energy's destructive pipeline. In February and March 2020, thousands of people joined the Wet'suwet'en in their protest. They demonstrated and set up protest camps together. For weeks, they blocked Canadian railways to call attention to the human rights violations of TC Energy. In response to these protests, business tycoon Warren Buffet backed out of his USD 4 billion investment in a Canadian LNG terminal. We call on financial institutions to step away from TC Energy, a company that is making fossil fuel profits on the backs of indigenous people.
Update:
In November 2021, the Wet'suwet'en and their supporters blocked an access road to the Coastal GasLink pipeline to prevent drilling under a sacred river. As a response, the police arrived in military-style gear with heavy guns on Wet'suwet'en territory and arrested 30 people. Among them were land defenders, elders and journalists.[3]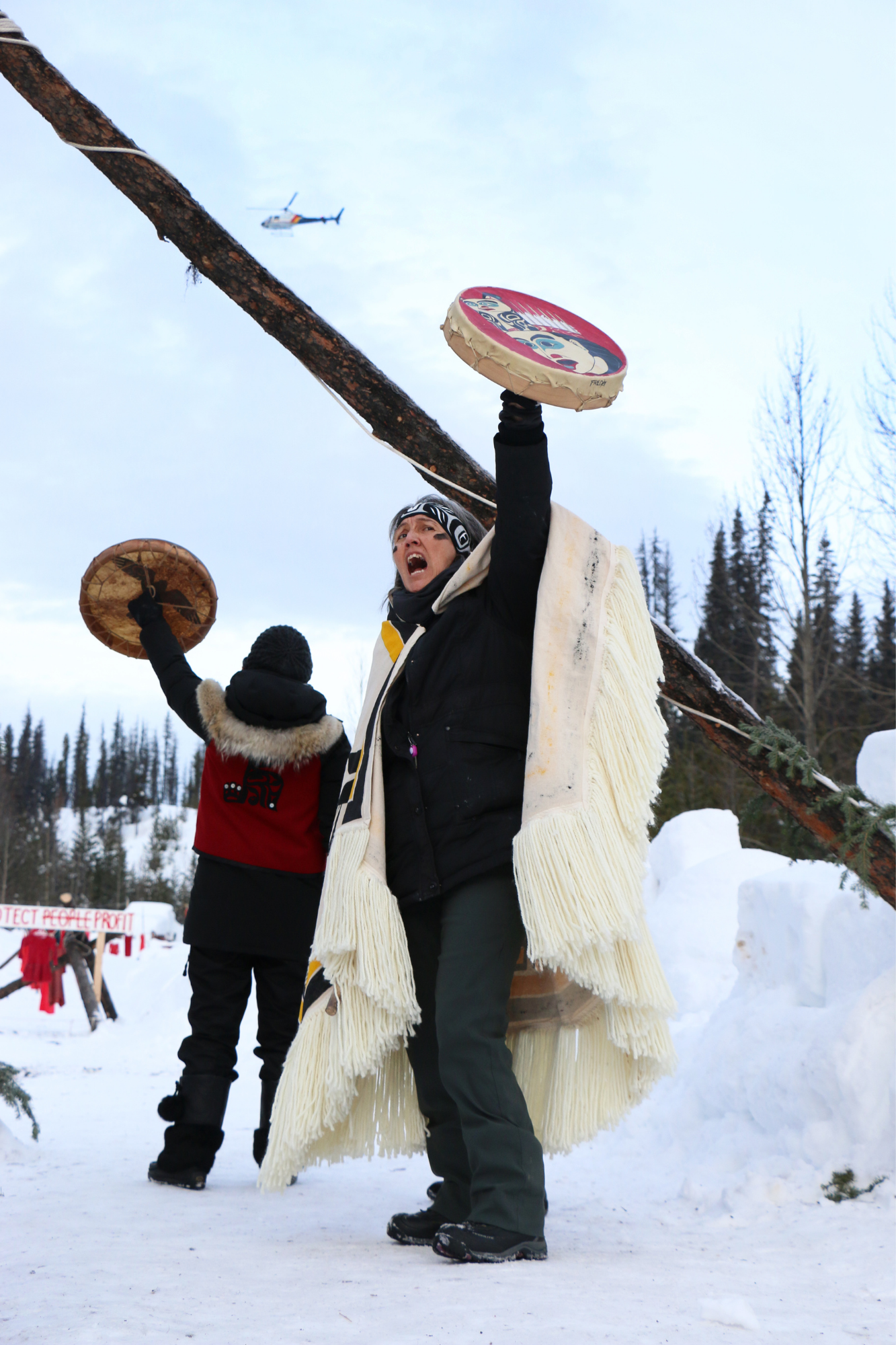 "Our people's belief is that we are part of the land. The land is not separate from us. The land sustains us. And if we don't take care of her, she won't be able to sustain us, and we as a generation of people will die."

Freda Huson, part of the indigenous peoples' protest and Right Livelihood Award Laureate.[2]
Groups working on Coastal GasLink: The Office of the Wet'suwet'en, Unist'ot'en Camp
Sources:

https://unistoten.camp/wetsuweten-hereditary-chiefs-no-access-without-consent/
https://unistoten.camp/stolenartifacts/
http://unistoten.camp/wp-content/uploads/2019/12/2019ZineVIEW1.pdf
https://unistoten.camp/wetsuweten-leaders-condemn-canada-for-human-rights-violations-at-united-nations-forum/
http://www.wetsuweten.com/files/Oct._4,_2019_CGL.pdf
https://unistoten.camp/media/invasion/
https://www.yintahaccess.com/historyandtimeline
https://raventrust.com/campaigns/wetsuweten-2-2-2/
https://www.banktrack.org/project/coastal_gaslink_pipeline/0/www.edc.ca
https://www.mmiwg-ffada.ca/final-report/
https://www.nrdc.org/stories/what-keystone-pipeline
https://tbinternet.ohchr.org/Treaties/CERD/Shared%20Documents/CAN/INT_CERD_EWU_CAN_9026_E.pdf
Natural Resource Stewardship Monitoring and Assessment Report for the Wet'suwet'en Hereditary Territory (https://www2.gov.bc.ca/gov/content/industry/forestry/managing-our-forest-resources/integrated-resource-monitoring/integrated-monitoring-reports)
https://thenarwhal.ca/coastal-gaslink-pipeline-still-lacks-key-environmental-authorization-in-contested-wetsuweten-territory/
https://www.nytimes.com/2019/10/31/us/keystone-pipeline-leak.html
https://www.projects.eao.gov.bc.ca/p/588511c4aaecd9001b825604/documents?currentPage=1
https://thenarwhal.ca/amber-bracken-canadian-association-of-journalists-wetsuweten-rcmp/
https://www.cbc.ca/news/canada/british-columbia/coastal-gaslink-crossing-hundreds-waterways-1.5917474
https://thetyee.ca/News/2021/01/11/Coastal-GasLink-Harming-Watersheds/
https://thenarwhal.ca/to-understand-b-c-s-push-for-the-coastal-gaslink-pipeline-think-fracking-lng-canada-and-the-site-c-dam/
https://projects.eao.gov.bc.ca/api/document/58868fb1e036fb0105768600/fetch/Project%20Description
https://boldnebraska.org/keystone-pipeline-spill-history/
[1] Freda Huson, spokesperson for the Unist'ot'en house group of the Wet'suwet'en people, delivered a speech before the United Nations Permanent Forum on Indigenous Issues. She stated: "They are trying to erase us from our own land. All these acts that continue are acts of genocide. They want to extinguish our rights to our lands." Her full speech is available at
https://unistoten.camp/wetsuweten-leaders-condemn-canada-for-human-rights-violations-at-united-nations-forum/
The United Nations Genocide Convention of December 1948, which came into effect in January 1951, defines genocide in Article Two as "any of the following acts committed with the intent to destroy, in whole or in part, a national, ethnic, racial or religious group, as such":
Killing members of the group;
Causing serious bodily or mental harm to members of the group;
Deliberately inflicting on the group conditions of life calculated to bring about its physical destruction in whole or in part;
Imposing measures intended to prevent births within the group;
Forcibly transferring children of the group to another group.