Oil and Gas Companies are Financing the Killing of Myanmar's People
Location:
Myanmar
Project risks:
Conflict/Violence, Environmental Destruction, Social Harm
Companies:
TotalEnergies SE
Chevron Corporation
Posco International Corporation
Myanma Oil and Gas Enterprise (MOGE)
PTT Exploration and Production Public Company Ltd (PTTEP)
Petroliam Nasional Berhad (Petronas)
China National Petroleum Corporation (CNPC)
Oil and Natural Gas Corporation Ltd (ONGC)
Korea Gas Corporation (KOGAS)
JX Nippon Oil & Gas Exploration Corporation
GAIL (India) Ltd
Mitsubishi Corporation
China ZhenHua Oil Co Ltd
After ten years of democracy, Chevron, Total, Posco and other oil and gas companies are once again financing Myanmar's military junta. According to U tun Win, former Member of Parliament, and other NGOs, the generals are using this gas money to buy weapons to kill the people of Myanmar.[1]
On February 1, 2021, the Myanmar military took over the country's democratic institutions.[2] The soldiers put the elected government leader Aung San Suu Kyi in prison.[3] To protest against the takeover, the people of Myanmar immediately took to the streets.[4] While their resistance has been mostly peaceful, the reaction of the army was not.[5] Within only 9 months, the soldiers have killed 1,181 people and arrested 9,067 protestors.[6]
The United Nations is investigating whether the military is committing crimes against humanity: "The country of Myanmar is being controlled by a murderous, illegal regime. There is extensive video evidence of security forces viciously beating protesters, medics, and bystanders. There is video of soldiers and police systematically moving through neighborhoods, destroying property, looting shops, arbitrarily arresting protesters and passersby, and firing indiscriminately into people's homes." – Thomas Andrews, UN human rights investigator on Myanmar.[7]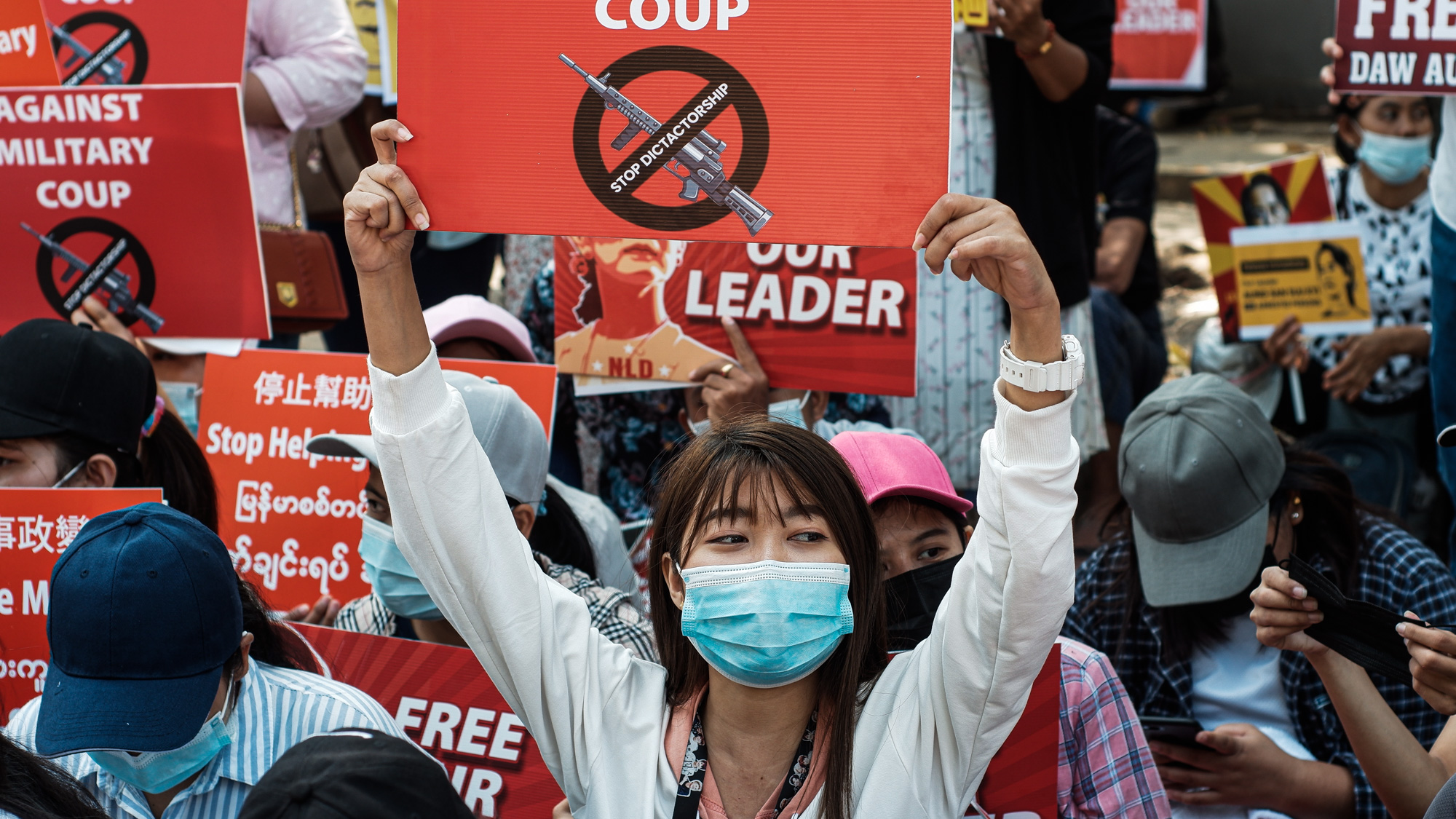 This is not the first time the generals ruled Myanmar. From 1962 to 2011, Myanmar's people lived under the dictatorship of the same military.[8] Then and now, oil and gas companies have worked hand in hand with the army. To be allowed to produce fossil fuels in Myanmar, the companies have to pay a share of their revenue to the Myanma Oil and Gas Enterprise (MOGE).[9] MOGE is a state-owned company that is now in the hands of the military junta.[10] The oil and gas money flows directly into the pockets of the generals in power.[11] In fact, the army gets most of its money from Total, Chevron, Posco, PTTEP and many other fossil fuel companies.[12] According to the UN investigator, "MOGE represents the single largest source of revenue to the state."[13]
The companies pay hundreds of millions of US dollars to MOGE.[14] Chevron's and Total's Yadana gas project is the biggest money source of them all.[15] In 1998, the companies started drilling for gas in the Yadana field in southern Myanmar.[16] Since then, they have been pumping the gas to Thailand through a pipeline.[17] This pipeline cuts 63 km (39 mi) through Myanmar's vibrant tropical rainforest.[18] The Tenasserim Forest stretches all the way across Myanmar, Thailand and Malaysia.[19] In this dense forest, indigenous people live in small villages.[20] They coexist in peace with Asian elephants, Malayan tapirs, Asian black bears and bison.[21]
While the name Yadana means treasure in the Myanmar language, the project has turned out to be a treasure only for the generals and the foreign companies.[22] For the people who live along the pipeline, it's another story: "The situation in our village was very good before Total worked here. We did farming, raised cattle and worked on our plantations peacefully, so our lives were better. After Total came, we were forced to go porter, carrying things for soldiers, we were forced to work on many things. Our farms and gardens were destroyed, and our durian and rubber plantations were gone with the pipeline." – said a person who lives along the Yadana pipeline corridor.[23]
Right from the beginning, the companies worked hand in hand with the military junta.[24] To make space for Total's and Chevron's pipeline, the soldiers drove tens of thousands of people out of their homes and villages.[25] They forced the people to carry their weapons, construction equipment and rice for days on end, often not giving them food or water.[26][27] Along the pipeline corridor, they made the people build roads, military barracks, police stations and helicopter landing pads for company executives.[28][29][30] If the people refused to work for the military, they had to pay regular penalty fees until they had no money left.[31] If they worked for the soldiers, they couldn't work on their farms.[32] Often, in one way or another, they lost their homes, their livelihoods and ended up in refugee camps.[33][34] The soldiers went far beyond pushing the people into poverty. They also raped young girls and women along the pipeline corridor.[35] They randomly beat, tortured, and murdered many people.[36]
These soldiers are part of the same military that is now set on establishing its dictatorship again. Already in 1992, when Levi Strauss & Co quit Myanmar, one of its executives said that "It is not possible to do business without directly supporting the military government and its pervasive human rights violations." [37]This is still true. While Malaysia's Petronas and Australia's Woodside have left the country since the takeover, Total, Chevron, Posco, PTTEP and co. are staying.[38][39] Chevron has even lobbied the US government to not impose sanctions on Myanmar since it would harm the company's business.[40]
Updates:
In December 2021, US investor Coast Capital urged Total to immediately end its oil production in Myanmar. Coast Capital is a shareholder of Total. The investor "believes it is clear that TotalEnergies is indirectly helping finance crimes against humanity in Myanmar."[41]
In January 2022, Total and Chevron gave in to the pressure from their shareholders and civil society.[42] The 2 companies have announced that they will pull out of Myanmar.[43] Now it is up to PTTEP, Posco, CNPC etc. to follow suit.