OMV is paying private investigation firms to spy on climate activists and major environmental NGOs in New Zealand and Austria. Every day, the oil giant receives information about their protest plans against the oil industry.[1]
OMV is headquartered in Austria and is New Zealand's second largest hydrocarbons producer.[2] Leaked information and investigative research revealed in April 2021 that OMV has been paying private investigation firms. The espionage firm Welund is monitoring Fridays for Future activists and Greenpeace campaigners in Austria.[3] In New Zealand, the firm Thompson + Clark monitored and infiltrated climate groups.[4]
In 2020, Greenpeace, Extinction Rebellion and School Strike for Climate activists successfully protested OMV's offshore expansion plans in New Zealand. Among other environmentally sensitive areas,[5] OMV wanted to drill for oil in the Great South Basin.[6] The Basin's sea bed is the natural home of humpback whales, bottlenose dolphins and rare sea lions. The activists blockaded support vessels, occupied drilling rigs, barricaded and shut down OMV's offices and protested outside of industry conferences. Eventually, OMV dropped its expansion plans.[7] But the activists' success came at an expense: OMV hired a private investigation firm to learn about their activities in advance.
The public broadcaster Radio New Zealand revealed in April that OMV is one of the largest clients of the security firm Thompson + Clark.[8] The firm monitored and infiltrated School Strike 4 Climate, Greenpeace, Extinction Rebellion and Oil Free groups.[9] Some activists expressed the feeling they were being surveilled in their private homes.[10][11] This information enabled OMV to try to evade or minimize protests. The company strategically deployed security personnel because it knew the activists' protest plans in advance.[12] OMV even asked Thompson + Clark for the names of protest leaders, so the oil company could give the activists retrospective trespass notices.[13][14]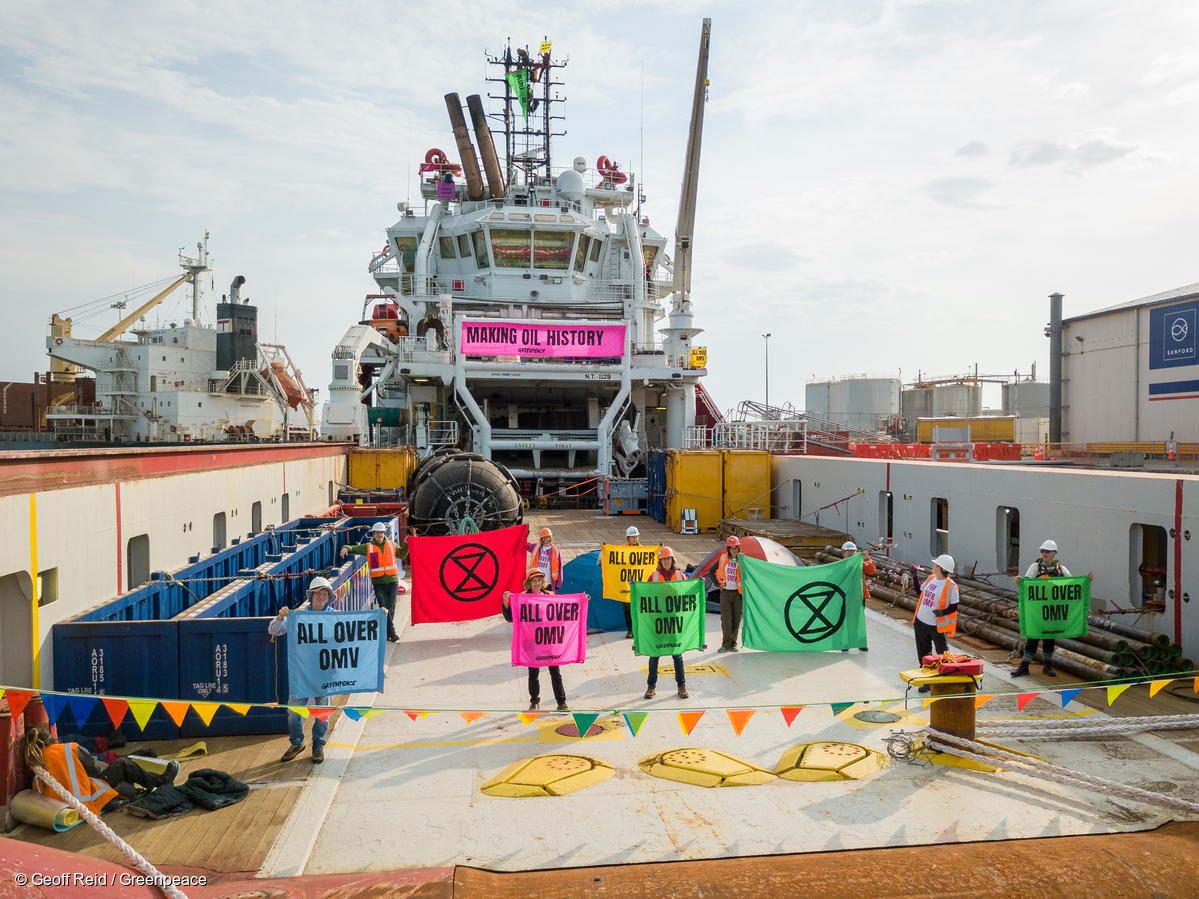 OMV's espionage scandal goes beyond New Zealand though. In early 2021, Fridays for Future and Greenpeace activists in Austria were leaked a scandalous email. It revealed that OMV is also paying the private investigation firm Welund to spy on activists in Austria.[15] Welund was founded by a former UK Secret Service agent. It specializes in monitoring environmental activists on behalf of fossil fuel companies like OMV.[16][17] Although the Austrian state owns 32% of OMV, the government claims it knew nothing about this scandal.[18] When the leak became public, the Austrian Vice Chancellor demanded immediate clarification from OMV's CEO. OMV denied the allegations but didn't provide evidence it has stopped spying on the activists.[19][20]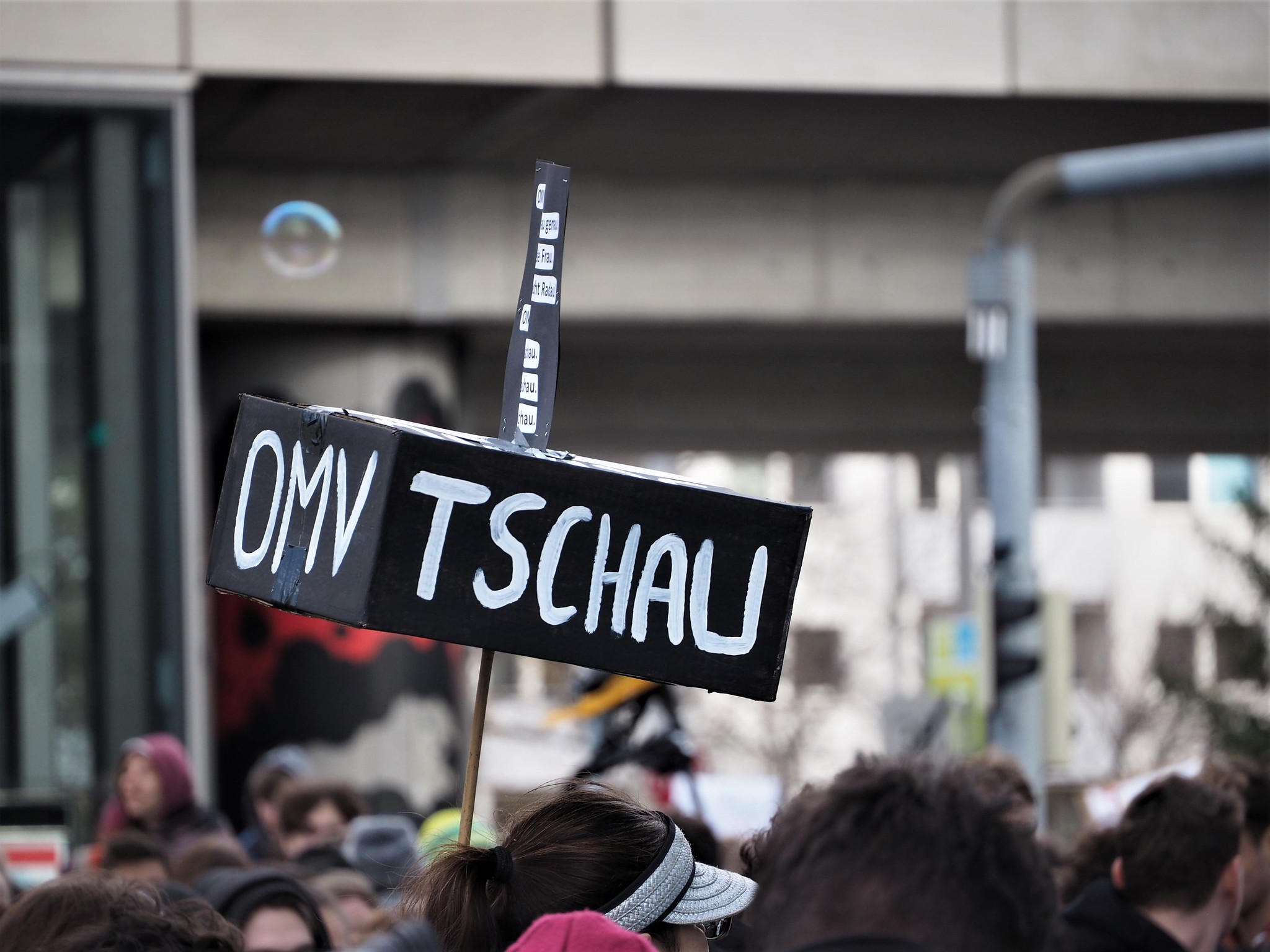 OMV's collaboration with espionage firms is an attempt to undermine peaceful civil society action. Climate activists and organizations are making use of their right to freedom of speech. They are fighting for a better future on a livable planet. OMV has to take their demands for ambitious climate action seriously and phase out its fossil business.
Check out the video: OMV, It's not over!

Some of the protesters also danced in front of OMV's offices in New Zealand – reason enough for OMV to hire espionage firms.
Groups working on this issue: Fridays For Future Austria, Greenpeace CEE, Greenpeace Aotearoa, Oil Free Otago, School Strike 4 Climate NZ, Extinction Rebellion NZ
Sources:
[2] Rystad UCube, July 2021