Tilenga / Kingfisher Oil Fields and East African Crude Oil Pipeline
Location:
Lake Albert & Murchison Falls National Park, Uganda to Tanga, Tanzania
Project risks:
Conflict/Violence, Environmental Destruction, Litigation, Social Harm
Companies:
Approximate location of TotalEnergies' Tilenga oilfield. Its oil would feed EACOP.
TotalEnergies and CNOOC are sensing big money in Uganda. The companies want to produce oil in the country and pump it all the way through savannahs, swamps and tropical forests to the Tanzanian coast. To make space for the wells and the pipeline, TotalEnergies and CNOOC are forcing more than 100,000 people off their lands.[1] At the same time, the oil giants are destroying the homes of elephants, lions, leopards, and giraffes.
Tilenga & Kingfisher Oil Fields
CNOOC and TotalEnergies want to extract oil in the Tilenga and Kingfisher oil fields in north-western Uganda. These oil fields lie underneath farmland, lakes and the Murchison Falls National Park.[2] The Murchison Falls National Park is a sanctuary for iconic and threatened animals. Lions and leopards lurk through the savannah and elephants walk the grasslands.[3] The Park is one of the last places on Earth where Nubian giraffes, a critically endangered species, gaze across the thicket.[4] The Nile River also flows through the Murchison Falls Park; its riverbanks are a resting place for more than 450 bird species.[5] The Murchison Falls National Park is the oldest and biggest natural protected area in Uganda.[6] In this Park alone, TotalEnergies and CNOOC want to drill 132 oil wells.[8]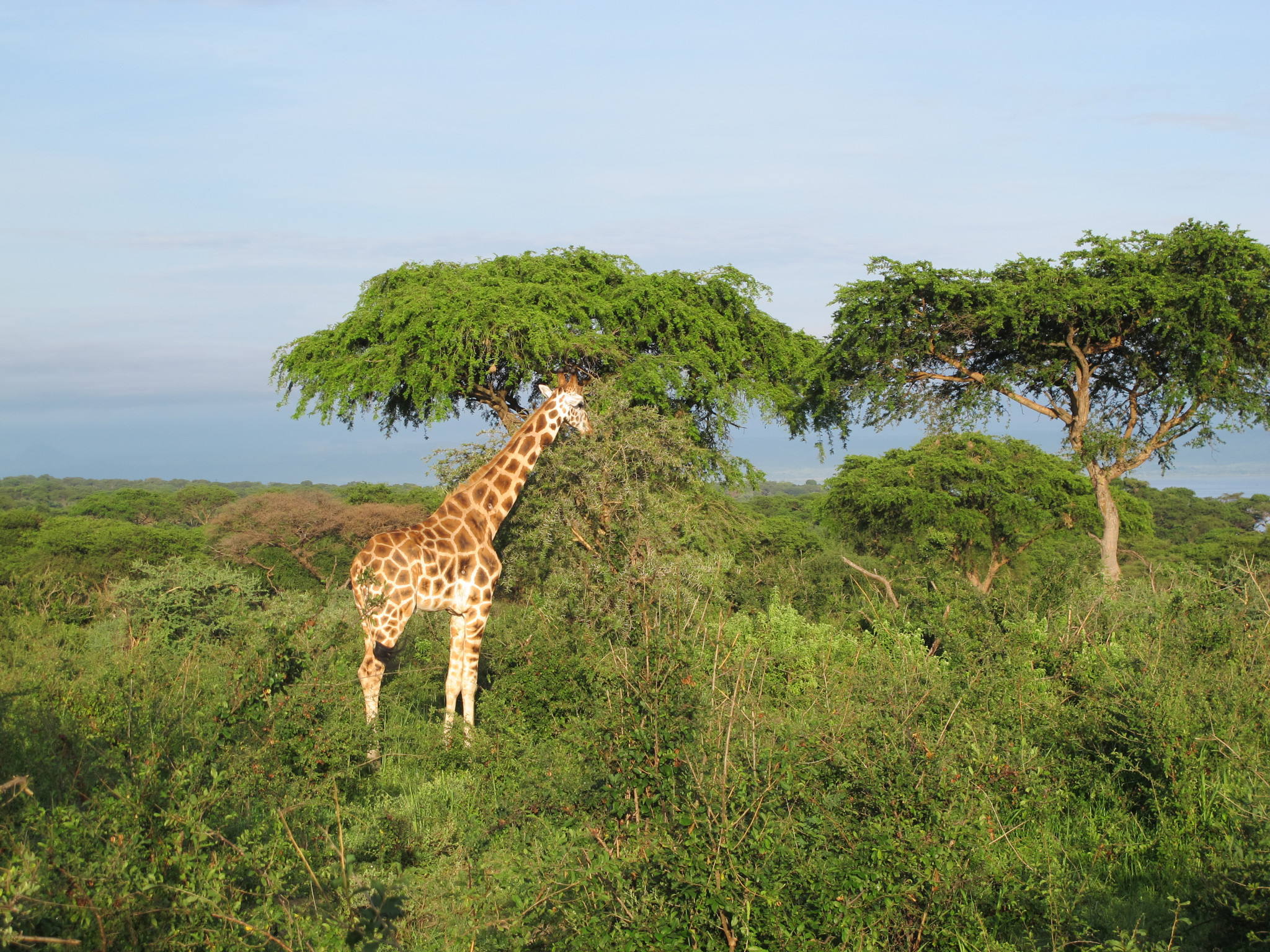 The foreign companies are blind to what the Murchison Falls National Park stands to lose. In the heart of the Park, CNOOC and TotalEnergies are building drilling sites, access roads, and a network of pipelines. This infrastructure is creating barriers in the animals' habitats by cutting through their hunting and breeding grounds.[9] Villagers report that the companies' construction activities chase elephants away from the park. In their distress, the animals ravage people's fields and gardens.15275 Conservation organizations have even evacuated Nubian giraffe herds to save them from the dirt and noise made by the oil companies.12361
Outside the Murchison Falls National Park, TotalEnergies and CNOOC's oil megaproject is spreading across people's fields and farms. For the Tilenga oil site alone, TotalEnergies has been forcing more than 31,000 people off their lands.[12] Villagers report that the oil companies and their subcontractors pressured them to sign forms and handed out compensation that did not cover their losses.1527715281 Those who had to make space for Tilenga have awaited compensation for years.[13] 15279 Without farmland or compensation, people can no longer grow the crops that once brought them their only income. Many have struggled to pay for medicine and their children's school fees.[14] Others no longer knew how to afford meals for their families.[15]
In January 2023, CNOOC began drilling at the Kingfisher oil field, just south of Tilenga.15283 The Chinese company wants to drill vertically and horizontally underneath Lake Albert. As one of Africa's largest lakes, Lake Albert supports millions of people in Uganda and the Democratic Republic of Congo who depend on the lake's fish and freshwater.15285 15287 Locals question whether the Chinese oil giant has appropriate measures in place to prevent and clean up a potential oil spill in Lake Albert.15289 They voiced their concerns at public hearings, but the company did not address them in their Environmental and Social Impact Assessment.15291 People in the villages next to CNOOC's drilling rig feel betrayed.15293 CNOOC allegedly gave out too little compensation for the farmland it acquired, if any at all.15295 Night and day, the light and noise from its drilling rig is chasing away the fish of Lake Albert.15297 Without the opportunity to farm and to fish, some of the villagers have to resort to activities such as illegal sand mining to support their families.15299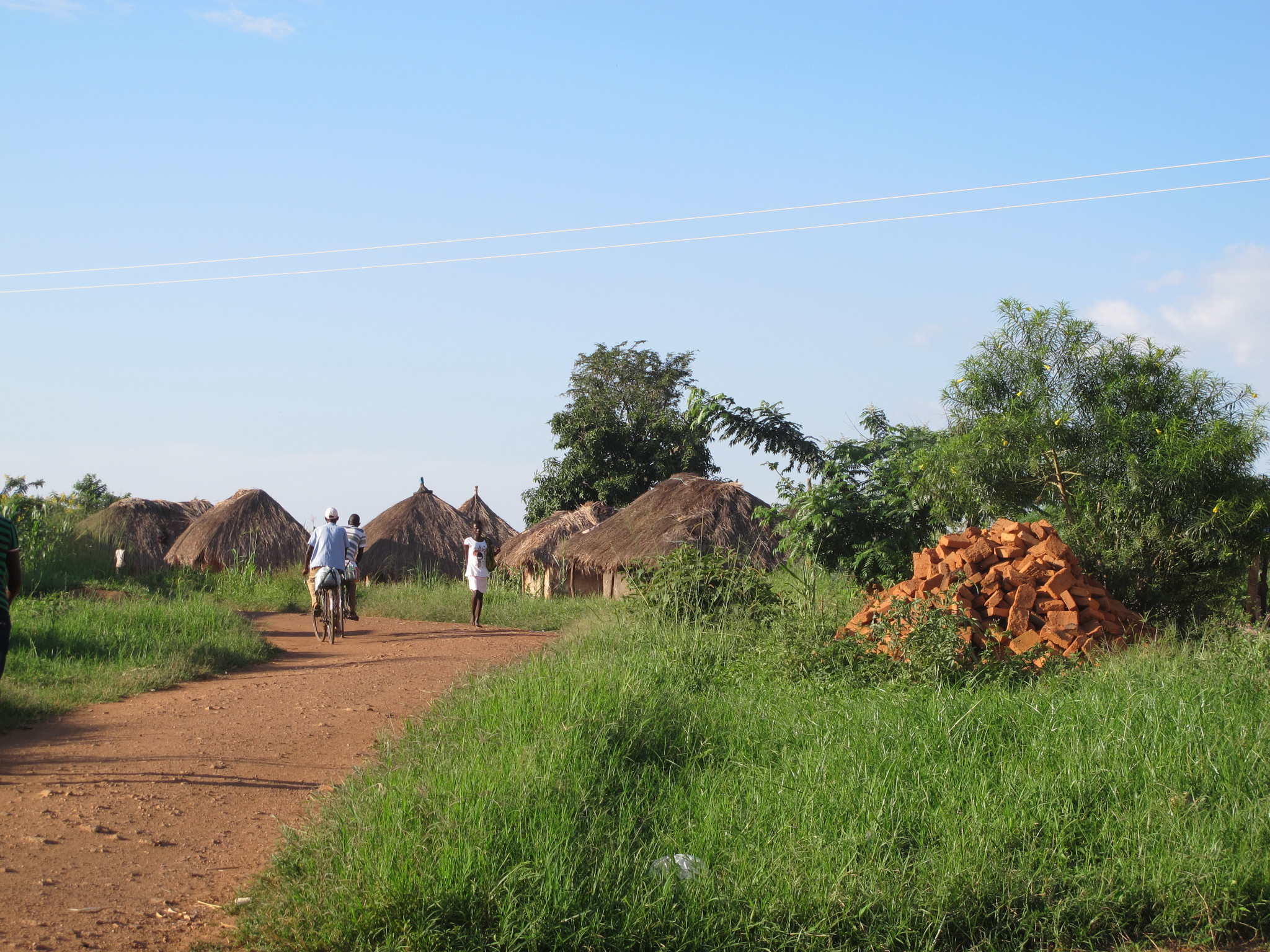 East African Crude Oil Pipeline
To move the oil out of landlocked Uganda, CNOOC and TotalEnergies want to build the 1,445 km (898 mi) East African Crude Oil Pipeline (EACOP). EACOP would run all the way through Uganda and Tanzania to the Indian Ocean Port of Tanga. From there, the oil would be shipped out into the world.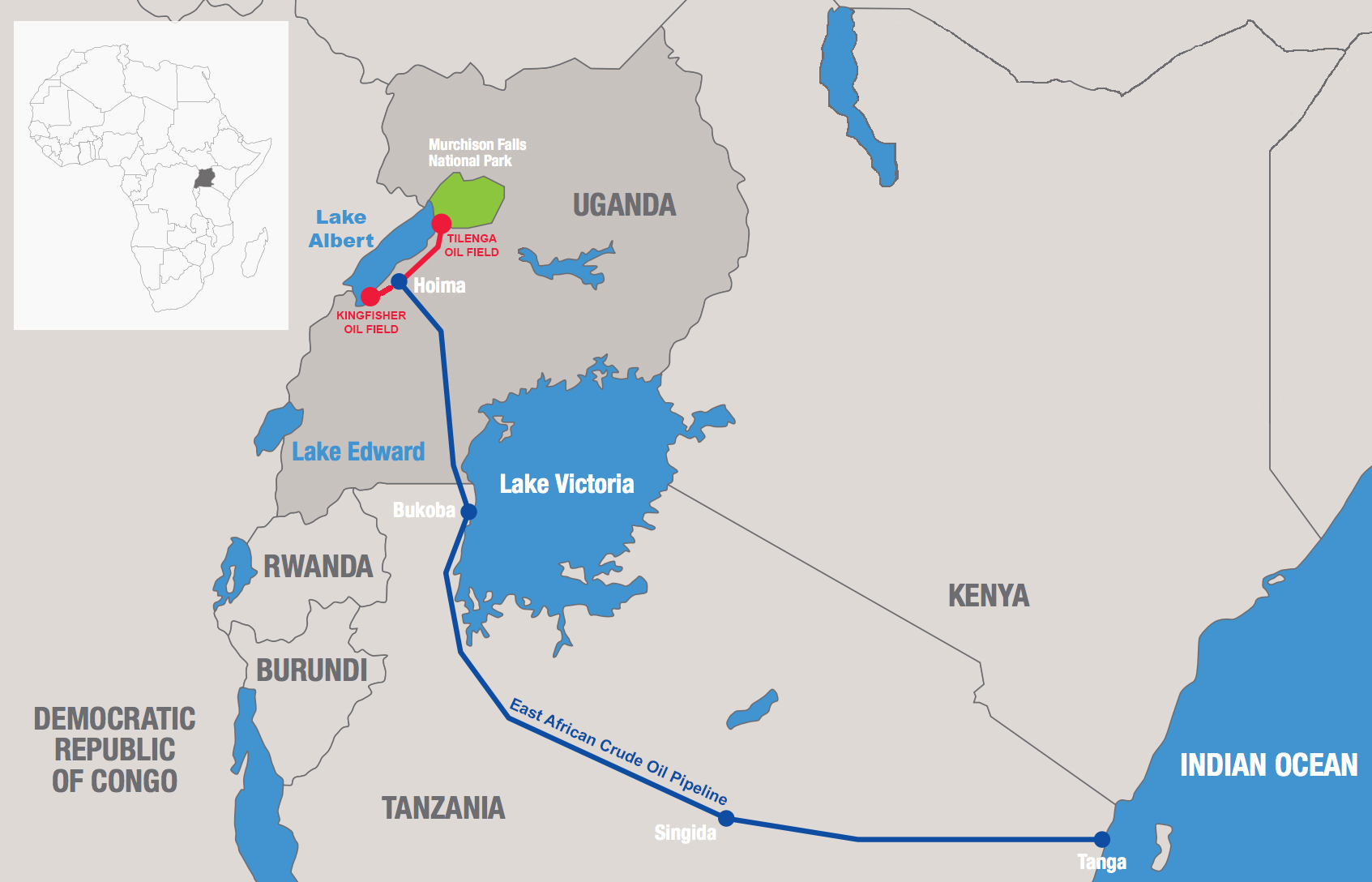 On its way to the Tanzanian coast, EACOP would run through forests, savannahs and swamps. A 30-meter-wide (98 ft) pipeline corridor, cleared of houses and trees, would crisscross countless nature reserves. EACOP would scatter the natural homes of chimpanzees, lions, buffalos, zebras, antelopes, elephants, and migratory birds. If the pipeline is completed and reaches the Tanzanian coast, oil tankers would steer through mangrove swamps and coral reefs to export the oil.[16]
TotalEnergies and CNOOC have planned the pipeline in a way that would force tens of thousands of farmers and families off their land. EACOP would cut through 178 Ugandan and 231 Tanzanian villages and invade the lands of more than 86,000 people.[18][19] As for Tilenga, the affected people have no say in this. They claim that if they don't make space for EACOP voluntarily, the oil giants' subcontractors will intimidate and threaten the people to make them leave.[20][21]
Bill McKibben, an American environmentalist, author and co-founder of international environmental organization 350.org said,
"The proposed route looks almost as if it were drawn to endanger as many animals as possible." [17]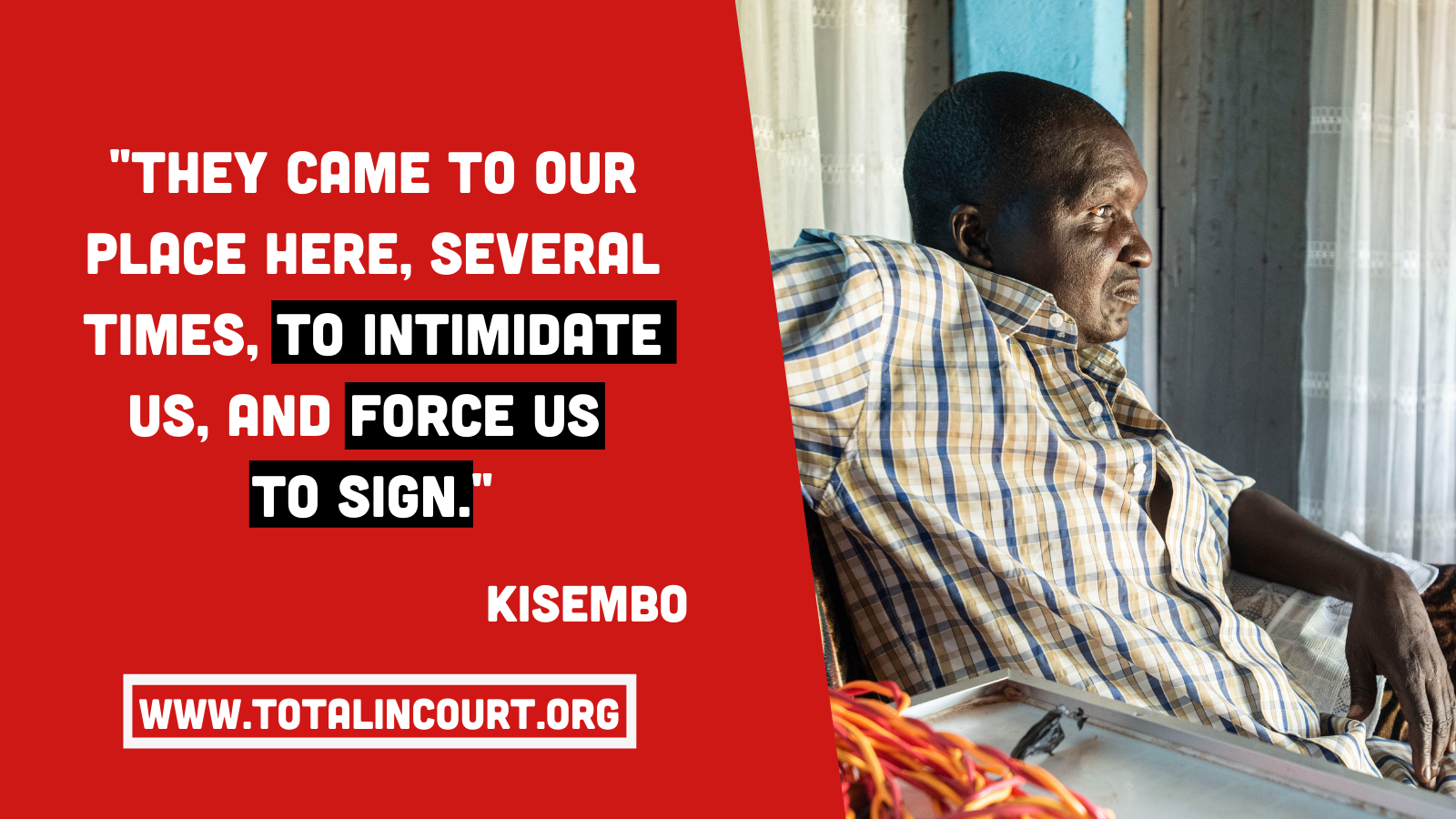 Those who dare to stand up against CNOOC and TotalEnergies face threats and harassment. The Ugandan police has arrested an increasing number of students, farmers, journalists, human rights defenders and environmental activists that spoke out against the oil projects.153011530315305 After the farmer Fred Mwesigwa travelled to France for a court hearing against TotalEnergies in 2019, unknown men tried to break into his home and locked him into his house with padlocks.[22] The community leader Jelousy Mugisha also spoke out against TotalEnergies during the same visit in Paris.[23] As soon as he arrived back in Uganda, the police arrested him and questioned him for nearly 9 hours.[24] Local organizations fighting for the rights of affected citizens have also faced oppression and violence.15307 In February 2022, unknown persons with guns broke into the office of Community Transformation Foundation Network (COTFONE), a Ugandan human rights organization that helps those affected by EACOP.12351 The gunmen stole files that contained testimonies on the impacts of the EACOP project which were intended for the court.12351 Even though UN special rapporteurs have sent 4 official communications on human rights violations related to the oil field and pipeline projects in only 2 years, little has changed.15309
The Climate Accountability Institute calculated that over its lifetime, the pipeline's construction and operation, as well as the shipping, refining and use of EACOP's oil will result in 379 million tonnes of CO2 emissions.15311 This is far greater than the numbers provided by TotalEnergies in their Environmental and Social Impact Assessment. They conveniently ignored emissions from the oil's combustion, which make up the lion's share of fossil fuels' carbon footprints.
Under Fire
TotalEnergies is no longer getting away with this. Ugandan and French organizations have taken the oil giant to court for breaching the French "duty of vigilance" law. This law binds TotalEnergies, its subsidiaries and subcontractors to prevent human rights violations and environmental damages wherever the company is operating.[27] The organizations are convinced that TotalEnergies is breaching this law with its dirty projects in Uganda and Tanzania.[28][29] In February 2023, the court dismissed the case for procedural reasons, but the organizations plan to continue taking legal action against TotalEnergies. In the meantime, four organizations from Uganda, Kenya and Tanzania have also taken the EACOP project to the East African Court of Justice.1235315313 26 members of affected communities from Uganda and civil society organizations have filed a separate lawsuit against the Tilenga and EACOP projects in France. They demand that TotalEnergies pay reparations and take responsibility for driving people from their land and limiting their access to food.1531515317
CNOOC and TotalEnergies are feeling the heat of widespread resistance from all over the world. More than 260 civil society organizations are demanding a stop to EACOP.12355 They have called on international banks and insurers to refrain from supporting it. Worldwide, more than one million people have signed a petition to stop the oil drilling in Uganda and EACOP.[30] Their mission to stop EACOP has received support from the Vatican and Pope Francis.12357 Four UN Special Rapporteurs have confronted TotalEnergies about its human rights obligations in Uganda and Tanzania.[31] Even the European Parliament has passed an emergency resolution calling on TotalEnergies to temporarily halt its Tilenga and EACOP projects and consider alternative renewable energy projects.15319
Some of the world's largest banks and insurance companies have already ruled out support for EACOP, a project that is "too hard to defend".[32] Among them are BNP Paribas, Société Générale, Crédit Agricole, Barclays, Credit Suisse, ANZ, UniCredit, Mizuho and AXA.[33]12359 Still, all of them continue to support the companies behind this megaproject: CNOOC and TotalEnergies.
Check out the video:

Groups like Friends of the Earth France are spreading the word on the disastrous effects of Total's and CNOOC's project in Uganda and Tanzania.
Groups working on Tilenga/Kingfisher/East African Crude Oil Pipeline: African Institute for Energy Governance (AFIEGO), National Association of Professional Environmentalists/Friends of the Earth Uganda (NAPE), Civic Response on Environment and Development (CRED), Navigators of Development Association (NAVODA), Community Transformation Foundation Network (COTFONE), Center for Food and Adequate Living Rights (CEFROHT), Centre for Citizens Conserving Envivronment & Management (CECIC), Avaaz Uganda, Les Amis de la Terre France (Friends of the Earth France), Survie, International Federation for Human Rights (FIDH), Oxfam, Global Rights Alert, Northern Coalition on Extractives and Environment, IUCN Netherlands, BankTrack, Both Ends, Just Share, Inclusive Development International, Global Catholic Climate Movement, Extinction Rebellion South Africa, 350 Africa